Press
FEAUTURED IN HARPER'S BAZAAR BRIDE INDIA – JUNE 2014 .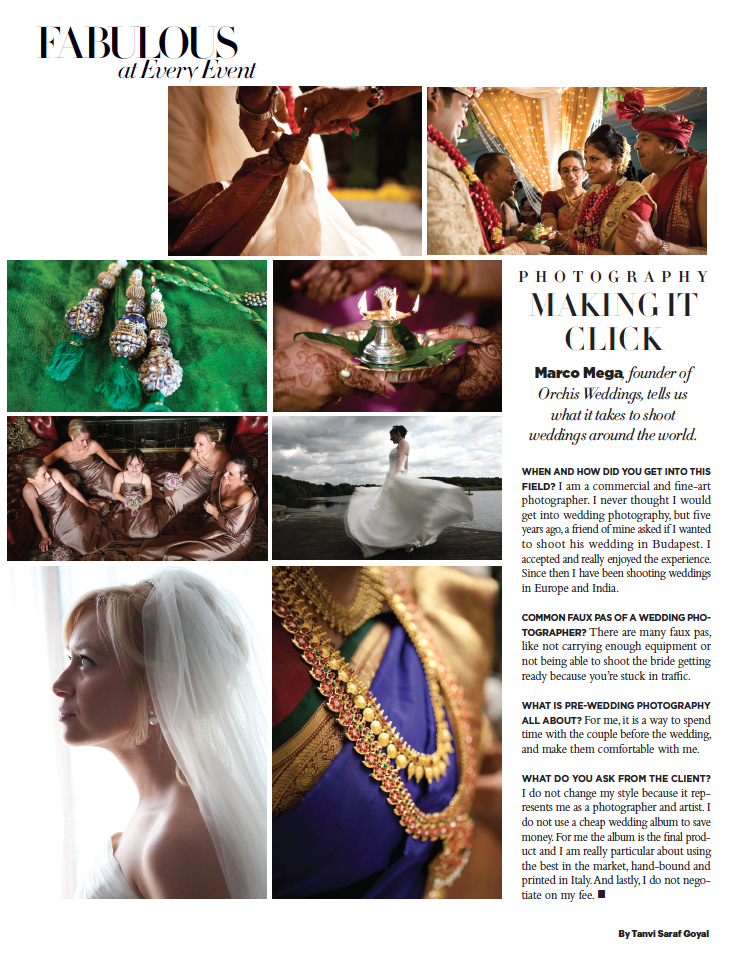 FEAUTURED IN WEDDING WOWS MAGAZINE – DECEMBER 2013 ISSUE.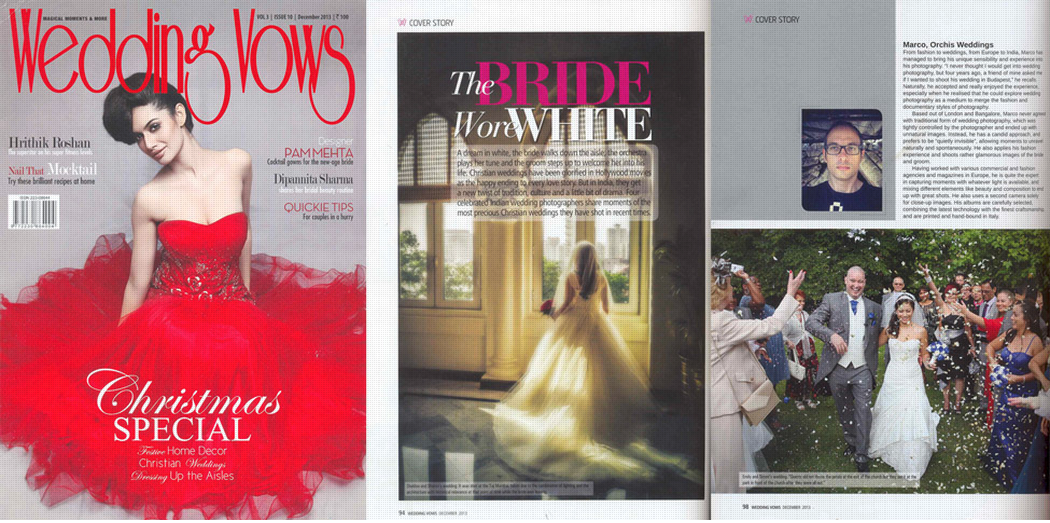 We have been feautured again in Wedding Wows magazine December 2013 issue.
You can read the full article here and enjoy the reading.
THE BRIDE WORE WHITE
From fashion to weddings, from Europe to India, Marco has managed to bring his unique
sensibility and experience into his photography. "I never thought I would get into wedding
photography, but 4 years ago, a friend of mine asked me if I wanted to shoot his wedding
in Budapest," he recalls. Naturally, he accepted and really enjoyed the experience,
especially when he realised that he could explore wedding photography as a medium to
merge the fashion and documentary styles of photography.
Based out of London and Bangalore, Marco never agreed with traditional form of wedding
photography, which was tightly controlled by the photographer and ended up with
unnatural images. Instead, he has a candid approach, and prefers to be "quietly invisible",
allowing moments to unravel naturally and spontaneously. He also applies his fashion
experience and shoot rather glamorous images of the bride and groom.
Having worked with various commercial and fashion agencies and magazines in Europe,
he is quite the expert in capturing moments with whatever light is available, and mixing
different elements like beauty and composition to end up with great shots. He also uses
a second camera solely for close-up images. His albums are carefully selected, combining
the latest technology with the finest craftsmanship, and are printed and hand-bound in
Italy.
WE ARE IN WEDDING WOWS SEPTEMBER 2013.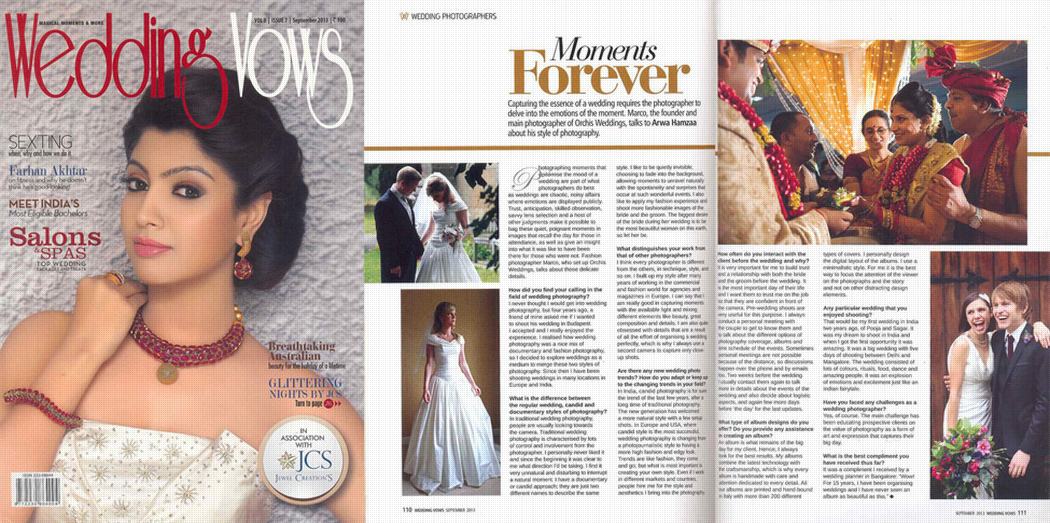 MOMENTS FOREVERPhotographing moments that epitomise the mood of a weddind are part of what

photographers do best as weddings are chaotic, noisy affairs where emotions

are displayed publicly. Trust, anticipation, skilled observation, savvy lens selection

and a host of other judgments make it possible to bag these quite, poignant

moments in images that recall the day for those in attendance, as well as give

an insight into what it was like to have been there for those who were not. Fashion

photographer Marco, who set up Orchis Weddings, talks about those delicate details.

How did you find your calling in the field of wedding photography?

I am a commercial and fashion photographer. I never thought I would get into

wedding photography, but one day 4 years ago, a friend of mine asked me if I

wanted to shoot his wedding in Budapest. I accepted and I really enjoyed the

experience, I realized how wedding photography was a nice mix of documentary

and fashion photography, so I decided to explore weddings as a medium to merge

these two styles of photography. Since then I have been shooting weddings in many

locations in Europe and India.
What is the difference between regular wedding photography, candidphotography and documentary style of photography?
The difference is quite clear. In traditional wedding photography people are usually
posed and looking towards the camera. Traditional wedding photography is
characterized by lots of control and involvement from the photographer. I
personally never liked it and since the beginning it was clear for me which direction
I was taking. I find it very unnatural and disturbing and to be honest I get quite
annoyed when I see photographers calling the bride and groom and screaming out
loud "big smile" or "cheers", interrupting a natural moment.
I have a documentary or candid approach, they are just two different names to
describe the same style. I like to be quietly invisible, choosing to fade into the
background. I don't manipulate the scene, allowing it to unravel naturally with all of
the spontaneity and surprises that occurs at such wonderful event. I am a keen
observer telling the story of the wedding, capturing emotions, humor and tensions.
This is all about being a candid/documentary wedding photographer. I also like to
apply my fashion experience and shoot more fashionable images of the bride and
the groom. The biggest desire of the bride during her wedding is to be the most
beautiful woman on this Earth, so let her be!
How long have you been in the business?
I started my career as a professional photographer in 2005 after attending an
advanced course in Fashion and Still Life photography at ISFCI in Rome and then
pursued an MA in Photojournalism and Documentary Photography at LCC in
London. Since then I dedicated my time between commercial, fashion and wedding
photography.
What distinguishes your work from that of other photographers?
I think every photographer is different from the others, in technic, style, etc I built
up my style after many years working of working in the commercial and fashion
world for agencies and magazines in Europe. I can say that I am really good in
capturing moments with the available light and mixing different elements like
beauty, great composition and details. The light is the most important element in a
photograph, and you have to get the best from it. I am also quite obsessed with
details that are a result of all the effort of organizing a wedding perfectly, that is
why during the shoot I always use a second camera to capture only close up shots.
Are there any new wedding photo trends?
In India candid photography is for sure the trend of the last few years, after a long
time of traditional photography, the new generation has welcomed a more natural
style with few setup shots. In Europe and USA where candid style is the most
successful, wedding photography is changing from a photojournalistic style to have
a more high fashion edgy look.
How do you adapt or keep up to the changing trends in your field?
Trends are like fashion, they come and go, but what is the most important is
creating your own style. Even if I work in different markets and countries, people
hire me for the style and aesthetics I will bring into the photography.
Describe your first project. How did you feel at the end of it?
I shot my first wedding in Budapest for a friend of mine in 2009. It was a simple
Christian wedding, not many guests, it was the perfect wedding to start with, and it
was amazing. At that time I was living in Dublin and the excitement of travelling to
a different country for shooting a wedding was great. I enjoyed being in Budapest,
capturing the joy and the emotions during the wedding, and of course the feast for
the guests. At the same time the anxiety of shooting a wedding is not easy at all, you
can not miss some important shots.
I was very happy about the result, so from then I launched Orchis Weddings a
company that caters to the wedding photography market.
How often do you interact with the client before the wedding and why?
It is very important for me to build trust and a relationship with both the bride and
the groom before the wedding. It is the most important day of their life and I
would want that they trust me on the job and they are confident in front of the
camera. Pre-wedding shoots can be very useful for this purpose.
Irrespective of how they contact me, through my website, facebook page, wedding
planners, word of mouth, I always try to have a personal meeting with them to
know each other and talk about the different options of photography coverage,
albums and time schedule of the events. Sometimes personal meetings are not
possible because of the distance, so discussions happen over the phone and by
emails too. Two weeks before the wedding I usually contact them again to talk
more in details about the events of the wedding and also decide about logistic
aspects, and again few more days before the "day" for the last updates.
But of course there are some rare occasions when this process is not followed. I
remember one day in London I received a call from a bride who had just lost her
photographer two days before the wedding in Oxford, we had just spoken over the
phone for 15 minutes and she decided to hire me that day. That was amazing. She
was very happy with her decision.
Do your clients give you a list of shots that they want?
No, they usually do not give me any list, sometimes they can give me some
guidelines about some particular shots they want or some specific people they
would like me to photograph. They usually already like my style when they come to
me.
What kind of relationship do you share with your clients?
I like to build a friendly relationship with my clients. Knowing each other before
the wedding as much as we can is quite important. I usually keep in touch with
them even after the wedding and often it happens that we become friends, sharing
some moments of fun together.
What type of album designs do you offer? Do you provide any assistance in
creating an album?
An album is what remains of the big day for my client. Hence, I always look for the
best results. Our albums combine the latest technology with the craftsmanship.
That is why every album is handmade, with care and attention dedicated to every
detail. All our albums are printed and hand-bound in Italy with more than 200
different types of cover.
I personally design the digital layout of the albums. I use a minimalistic style. For
me it is the best way to focus the attention of the viewer on the photographs and
the story and not on other distracting design elements.
Do your clients get to make the wedding album with you?
I always involve my clients in the process of designing the album. Bride and groom
choose the cover they like, the size and the number of pages. After few days from
the wedding I create an online gallery on my web site www.orchisweddings.com, so
the couple can see all the pictures and share them with family and friends.
When I finish the layout I share the pdf with the couple, but usually the bride is
always more involved than the groom in the process. They give me feedbacks and
usually we change few photographs or move some of them creating a different
layout. Then after the final layout is approved, the design will be sent to Italy for
printing and binding.
Any particular wedding that you enjoyed shooting? Describe it.
For sure my first wedding of Pooja and Sagar in India 2 years ago. It has been my
dream shooting in India and when I had the first opportunity it was amazing, a big
wedding, 5 days shooting between Delhi and Mangalore, lots of colors, rituals,
food, dance, amazing people. It was an explosion of emotions and excitement. It
was like being in an Indian Fairytale.
What is the best compliment you have received thus far?
Probably a compliment received by a wedding planner in Bangalore: "Wow! In 15
years I have been organizing weddings I have never seen an album as beautiful as
this.".
Have you faced any challenges as a wedding photographer?
Yes, off course. The main challenge has been about educating prospective clients
on the value of photography as a form of art and expression that captures their big
day. Mostly it is only the wedding album that stays as a memory of the wedding for
decades; hence it should be the most valued part of the wedding.